This Real Housewife has officially returned to the small screen with some big revelations.
Luann de Lesseps, one of the standout stars of Bravo's Real Housewives of New York City, gave her first live television interview since returning home from her second visit to rehab this year just over a week ago.
Sitting with NBC's Megyn Kellyon her eponymous show, the reality star and mother of two gave viewers a candid progress report. "I feel good. I feel great actually, but every day is a struggle. I take it day by day," she told Kelly. "I'm going to be 30 days sober tomorrow, so I'm celebrating, and I have this whole new life."
With AA meetings and probation stemming from her December arrest, the star is staying on course.  "It's good because I can't drink, and really at this point I feel like I'm almost allergic to alcohol because I can't be like most normal people and have a glass or two of wine. I'll drink the whole bottle and then I'm looking where can I get another bottle? It just doesn't work for me. I'm just not wired that way," she explained.
However, she was looking for a bottle after her ex-husband and two children filed a lawsuit against her in regard to a house she was planning to purchase and a trust she allegedly failed to set up for her son and daughter. "I fell off the wagon," she recalled to Kelly.
As de Lesseps' version of the story goes, she wanted to sell her Hamptons home for a different property in upstate New York. "The children weren't happy about that because it's their home and I understand that, but I just wanted to move. I felt that I needed more privacy and a lot of people know where I am and I just needed a fresh start," she explained. "The ex-husband came to visit and he decided to block me and sue me," she added, referring to Count Alexandre de Lesseps. "I let him stay in my house because we have a great relationship and we still do. I understand why he did it because I was really going big up there upstate with a very big property and since then I've decided to take something smaller and keep my home for the children because I love them."
However, legal documents were filed, immediately sparking headlines. "I found out about this whole story with the ex-count that I was being sued in the press," the reality star recalled. "That was devastating. I felt betrayed. I felt so hurt by that because I really wanted to move on and I just really wanted to flip this house and get the other one."
Heartbroken over the loss of the house and having learned of the lawsuit, de Lesseps said she "lost it" and started drinking again with a friend.
"She goes, 'I love making watermelon martinis.' I said, I'm in.'" The star spiraled as she consumed "two or three" of the martinis, followed by "two or three bottles of rosé" by herself and "probably a six pack of beer or something."
"I can't have one drink," she told Kelly. "I don't know when to stop."
Charles Sykes/Bravo
Ultimately, she missed the reunion taping for the series as she checked back into a facility. "I had to take care of myself first," she told the host."This weekend, Luann was surrounded by her girlfriends and decided — with their support — that in light of recent circumstances, it is the healthiest choice for her not to attend Tuesday's reunion taping so that she can continue in her healing process," co-star Bethenny Frankelconfirmed to People in mid-July. "Luann is now surrounded by a core group of people who truly have her best interests at heart and who are working to make sure she gets the help she needs."

<!— webpokerrabbit.club Mobile responsive ad block —>

The mogul added, "Bravo has been very supportive of Luann during this time. It's a brave and honest decision by her, and everyone is rallying around her and wants the best for her."

Meanwhile, the network issued its own encouraging statement, telling E! News, "Bravo supports Luann's decision to focus on her health. She is part of the Bravo family and we continue to stand by her as she copes with this challenging situation. At this time, we hope everyone will respect her privacy."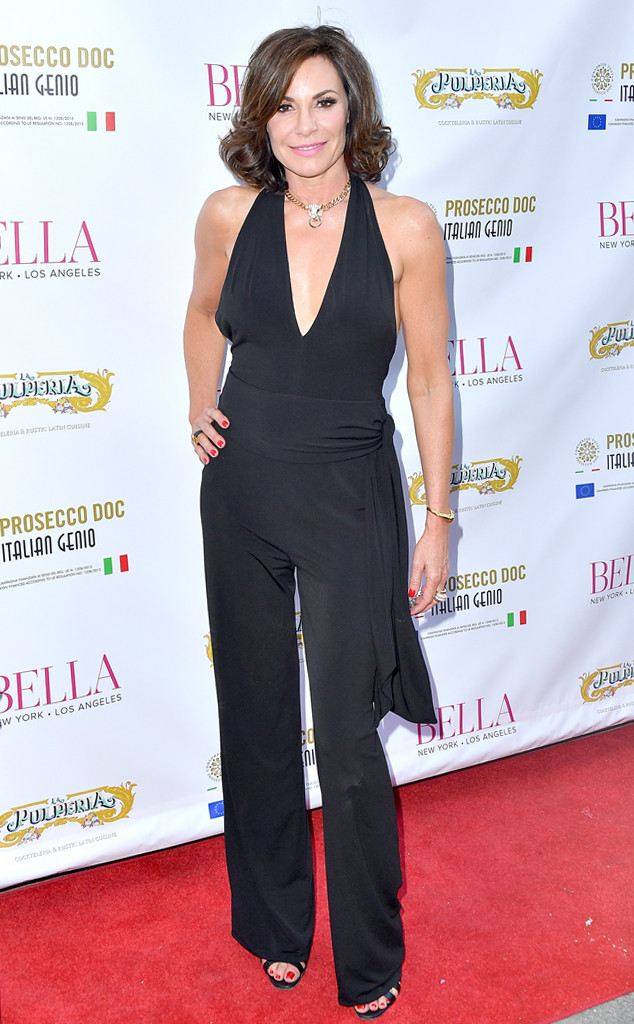 Michael Loccisano/Getty Images
Weeks before the announcement, de Lesseps had publicly celebrated six months of sobriety. "Counting my blessings!" she wrote on social media ahead of the Fourth of July.She first faced her personal struggles at the end of 2017 as she checked into a treatment facility in late December following her Palm Beach, Fla. arrest in the early hours of Christmas Eve on charges of battery on an officer, disorderly intoxication, resisting arrest with violence and crimes against a person. "This was my first time in Palm Beach since my wedding [to ex-husband Tom D'Agostino], and being here brought up long-buried emotions," she said in a statement issued after being released from jail and days before checking into rehab the first time. "I want to offer my sincere apologies to anyone I might have offended with my behavior.  I am committed to transformative and hopeful 2018." The performer struck a plea deal in July and pleaded guilty to battery, trespass and disorderly intoxication.

She returned home in mid-January after completing a 21-day program. Fans got to see how de Lesseps eased back into daily life after treatment as her days were chronicled on the show.

"It's been a rough year for me," she recently told a Long Island audience during her first post-rehab Countess and Friends performance last weekend. As she quipped to the audience, "I actually loved rehab, I loved it so much I went back."
"The second time around I learned a lot more about myself and it was very eye-opening and enlightening and spiritual and all of those things," she told E! News after the show. "I've realized that drinking doesn't work for me anymore, it just doesn't."The season finale of Real Housewives of New York City airs Wednesday on Bravo at 9 p.m.

(E!, Bravo and NBC are both part of the NBCUniversal family.)